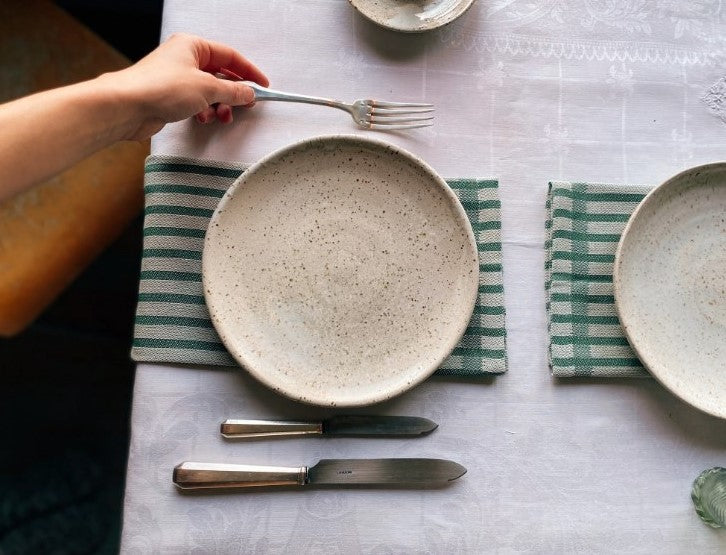 Winter Elegance: Setting the Table with VALRYGG Studio's Timeless Touch
As winter wraps its chilly embrace around us, there's a special joy in transforming our homes into warm, inviting havens. One delightful way to embrace the season is by setting a winter table that exudes both coziness and elegance. Here's a glimpse into creating a winter wonderland at your dining table with VALRYGG Studio's exquisite tablecloths and ceramics.
1. The Foundation: VALRYGG Studio's Tablecloths
Start by laying the foundation with VALRYGG Studio's stunning tablecloths. Embracing a palette inspired by the serene beauty of winter, their designs weave together timeless elegance and contemporary charm. Whether you choose a subtle, muted tone or a crisp white tablecloth, the backdrop is set for a feast of winter
2. Mixing Old and New: Ceramics with Character
Introduce character to your table by mixing VALRYGG Studio's contemporary ceramics with cherished old silvery pieces. The juxtaposition of modern and vintage elements creates a captivating visual narrative. VALRYGG's beautifully crafted ceramic plates goes perfectly alongside antique silverware.  
3. Winter Whites and Silvery Hues
Enhance the winter ambiance by incorporating white and silvery accents. VALRYGG Studio's tablecloths, when paired with gleaming silverware, evoke the pristine beauty of snow-covered landscapes. The play of light on silver accents creates a mesmerizing, wintry sparkle that adds an extra layer of sophistication to your table
4. Texture and Layers for Coziness
Incorporate texture to infuse warmth into your winter table setting. VALRYGG Studio's tea towels, with their tactile richness and stripes, provide the perfect base for layering. Use them as plush fabric napkins or a cozy table runner to create a sense of intimacy, inviting guests to linger at the table and savor the winter delights.
5. The Finishing Touch: Candles and Greenery
Complete your winter table setting with the flickering glow of candles and the freshness of greenery. Arrange VALRYGG Studio's ceramics as charming candle holders, casting a soft, warm light. Intersperse the table with small sprigs of evergreen or winter blooms for a touch of nature.
In summary, setting a winter table with VALRYGG Studio's tablecloths and ceramics is an artful celebration of the season's beauty. The delicate balance between modern design and vintage charm, coupled with the timeless winter whites and silvery hues, creates a table setting that is both inviting and elegant. As you gather with loved ones around this curated winter tableau, may it become a canvas for creating cherished memories in the heart of the season's